Adam Chilson is a master photographer of the highest caliber. He is well-known and immensely respected for his meticulous precision in lighting, set craft, and extreme subject matter. His trademark is the creation in-camera of images of intense character, emotion, and reality-suspending convolutions of the flesh, all without the use of digital effects or compositing.

Notable recent credits include:
Heavy Metal
magazine, Table of Contents spread, July 2009 issue
"Personality" exhibition at Apparatus Gallery, Las Vegas, NV - June-August 2008
Skin Two Magazine
, Spring 2008 issue
Additional Print Publications:
Hustlers Taboo
Magazine;
Secret
Magazine; and others
Adam says of himself:
"I am an eccentric, published author, artist, and photographer. My projects are inspired by an overactive imagination, unflagging sense of adventure, and boundless energy. I'll try (almost) anything once, just for the sake of experience. I love working around creative, talented individuals with unique personalities and looks.
Photography is my passion. The search for something unique. Something that hasn't been done before. I love piercings, tattoos, clothing, hair, anything that makes a statement of individuality. I do little if any post-production or photoshop work – what you see is what you get. My own work is contantly evolving, exploring new ways to create some truly jaw-dropping imagery."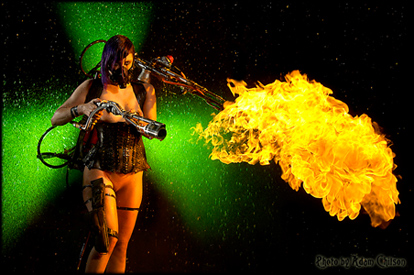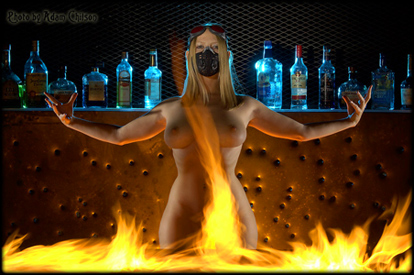 While we do not incorporate any live fire or sparks elements into the workshop program, a workshop day with Adam is an opportunity for photographers to learn directly from the artist capable of conceiving and executing through-the-lens photography on this level. The techniques and methods presented in the workshop series come from the same approach that make possible these otherworldly images.